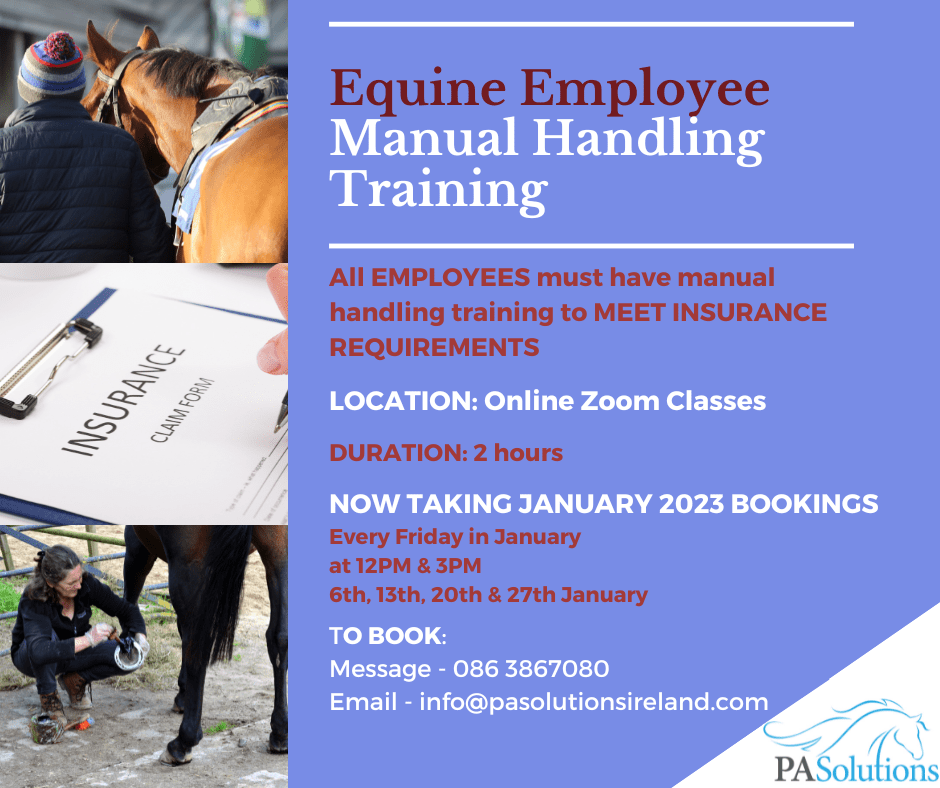 Now taking bookings for January 2023!
HOW?
The classes will take place via Zoom, the zoom link can be sent to the employer to share with their employee or the employee directly.
Each participant will need access to a smart device / laptop / computer to click on the link and join the zoom meeting (individually).
The attendees will need to log in 10 minutes before class starts in order to check their device is working.
Ensure their microphone and camera are on and working correctly.
CERTIFICATION
The participant will need to have a cardboard box (or feedbag / bucket / bag of shavings) and their camera turned on throughout the class in order to participate in the assessment.
Upon completion each participant will be certified by our qualified manual handling instructor, a certificate will then be issued to the employer (or participant).
COST
€40 per participant, payment must be made in advance of receiving the Zoom link.
GROUP BOOKINGS
One in five participants go free.
WHEN?
Friday 6th January 12 noon / 3PM
Friday 13th January 12 noon / 3PM
Friday 20th January 12 noon / 3PM
Friday 27th January 12 noon / 3PM
TO BOOK
Please email info@pasolutionsireland.com
Participant(s) name(s)
Preferred date and time
Invoicing details (Address / company name)
Employer email
Employee email (if applicable)
Contact number
Please don't hesitate to get in touch with any queries.
P: 086 3867080
E: info@pasolutionsireland.com